Back to Overview
Paradise and Tropicana
Fantastic Colour Mix
Paradise and Tropicana by Scheurich
It's getting colourful in the urban jungle! Flowers, fruit, leaves and animals dance around Scheurich's cover-pots Paradise and Tropicana and bring even more life into the home jungle. Exotic, extravagant and eye-catching – Paradise and Tropicana are expressive designs full of nature's vibrancy.
Amidst the calmness of bird's nest fern (Asplenium nidus), Vriesa "Madonna" and other plants, beautiful design details can be found; the blue moth is gathering with magnificent butterflies on Paradise, a humming bird is fluttering between red, yellow and purple blossoms in Tropicana.. Strong colours, large designs and a glossy white finish to the pots emphasise the presence of Paradise and Tropicana in the home. Fine shadows additionally create an appearance of depth to the design and give the pots a realistic impression.
Everyone who likes to mix colours and patterns will love these opulent designs and can combine Paradise and Tropicana with solid-coloured cover-pots in Burgundy, Oliva and Panna. Interior decoration enthusiasts can also add colourful prints, books or cushions in rich hues next to the plants to maximise the dramatic effect of the colours.
The quality features "Made in Germany" and "100 percent waterproof" guarantee clear benefits.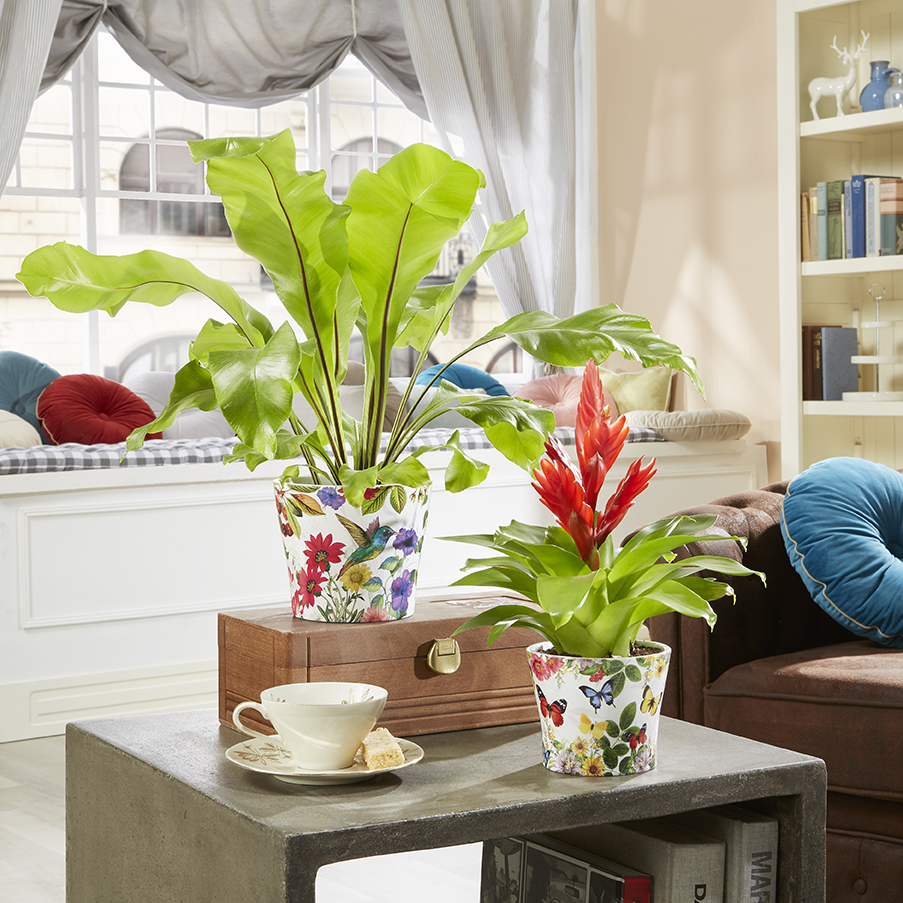 | Available sizes: | |
| --- | --- |
| Tropicana: 11, 13, 15 and 17 cm | |
| Paradise: 11 and 13 cm | |