Back to Overview
Urban Jungle with Scheurich
Green makes you happy
Urban Jungle with Scheurich
Live naturally! The Urban Jungle for the living room has long been a favourite among plant lovers. Now this popular trend is also expanding into our kitchens and bathrooms – and Scheurich shows the best way to create this jungle in the home.
An Urban Jungle looks most beautiful when it is centred around the fittings and furnishings and reduced to just two or three cover pot designs. To create a modern design and ambience Scheurich recommends the cool Wild Sea & Wild Ice in combination with the Moon & Ocean cover pots. The grey and blue shades of the pots complement the green of the plants, evoking an association with rocks and watering places that sparkle brightly between the leaves when the sun's rays fall upon the ridged surface of Wild Sea and Wild Ice. While naturalness and smooth surfaces emphasise the nature-loving alignment of Moon and Ocean.
To select the best plants as well as their location, it is best to sit down for a few minutes in your favourite spot in the room and let your gaze wander. Where are the empty corners in the room? Which plants go well with the decoration and furniture? A hanging Epipremnum areum (Devil's ivy) softens shelves in the bathroom or kitchen. Sansevieria (Mother-in-law's tongue) is beautifully displayed alongside candlesticks in the living room. The Urban Jungle can also 'bear fruit' according to personal taste; Pineapple mint (Mentha suaveolens) is perfect for infusing fresh mint tea, or crunchy fennel herb for soups or salads grow easily between cooking utensils.
The Urban Jungle depends on a harmonious overall picture. Trendsetters therefore think in all directions: cacti and succulents find their most impressive place on sideboards, shelves or desks and at eye level. Large dominant plants such as a Monstera fill the room especially when placed on stools, while on the lower steps of staircases plant stands, a Pilea, for example, also opens up the floor area. The Urban Jungle is enhanced with home accessories that continue the theme; like leaf-print cushions, wallpapers with exotic decoration, walls in shades of green or living accessories made of rattan, linen and bamboo. And by arranging plants with both light and dark leaves together, the Urban Jungle appears particularly lively.
In large cities in particular, plant lovers enjoy caring for their green roommates, it provides relaxation in the evenings and at the weekend. For lasting, beautiful plants it is worthwhile looking for the best location and placing plants accordingly. In addition, place the plants so that they are easily accessible so that no water droplets land on surfaces. when watering and feeding. Plant pots that are completely waterproof such as Scheurich's ceramic pots are an additional protection for furniture. And the new Smilla watering can from Scheurich pours precisely thanks to its large volume and narrow spout.
There is always something to discover in the Urban Jungle! First and foremost the positive aspects for health; a view of greenery and nature is relaxing, it allows eyes to take time away from the screen in the home office and plants such as lilies and palms enhance the climate of a room. And last but not least, taking care of plants makes sense, it grounds us after a busy or exciting day and increases happiness within our own four walls.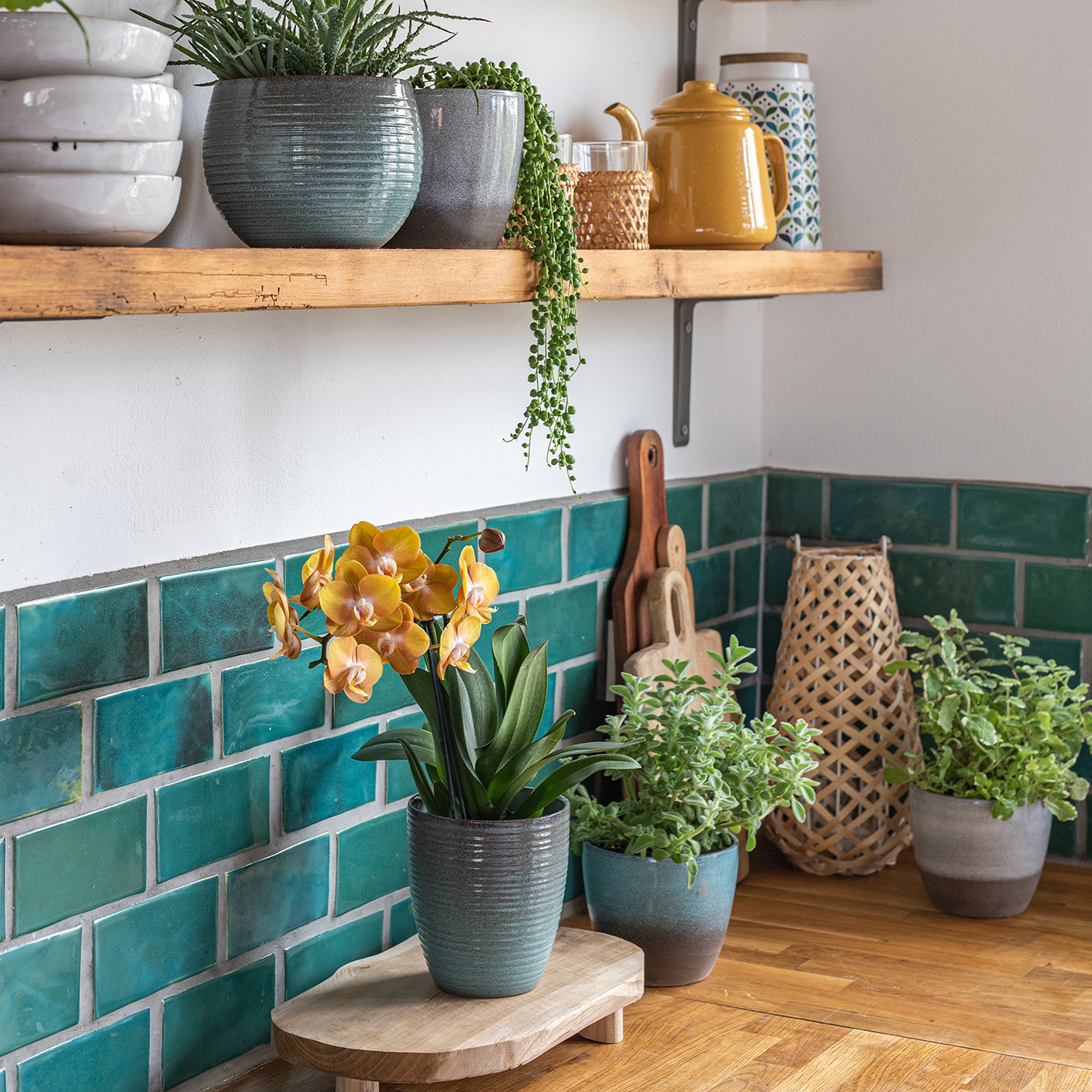 | Available sizes: | |
| --- | --- |
| Cover pots 920 Ocean, Flora, Moon: 14, 16 and 19 cm | |
| Cover pots 744 Wild Sea, Wild Ice, Wild Jungle: 16, 18, 21 and 24 cm | |
| Orchid pots 669 Wild Sea, Wild Ice, Wild Jungle: 14 cm | |
| Watering can Smilla Anthracite, Taupe, Green, Petrol: 1,6 l | |