Back to Overview
Tradition
Perfectly imperfect
Tradition by Scheurich
Now plant lovers are discovering an almost forgotten treasure in the Urban Jungle: amidst guzmania, ferns and dwarf pepper plants, Scheurich presents its new Tradition cover-pots Ocean Glaze, Meadow Glaze and Malva Glaze, each with a decorative surface as if from another time. Inspired by the Japanese raku technique and interpreted in a modern way, these newcomers are visually multifaceted with truly eye-catching decoration.
The dark charcoal grey interior of the cover-pots gives a sense of depth, which contrasts with, and perfectly grounds, the light green, blue and mauve surface colours. Tradition pleasingly breaks away from current fashion and spices up the popular Green Living trend with contemporary elements – the stylised glaze cracks in the Polyprint manufacturing process leaving room to admire imperfection at its best!
These are colours for the senses; the cover-pots present themselves fresh like a sea breeze, rich like tropical green and soft like an exotic blossom and thereby create exciting decorative accents when used alongside plant pots in anthracite and other green plants in the home.
In the best Scheurich tradition, these treasures from the jungle are made in Germany; Exciting design and the key benefit of being 100 percent waterproof are of course not mutually exclusive with this new cover-pot range.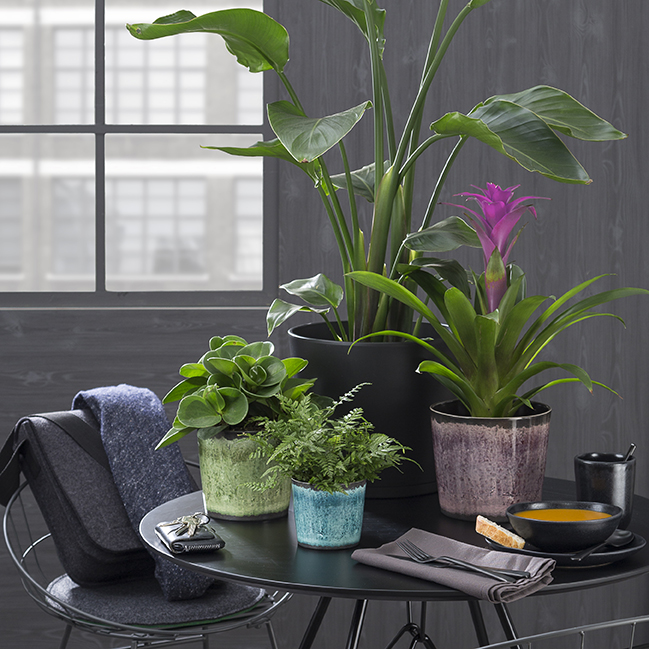 | Available sizes: | |
| --- | --- |
| 11, 13, 15, 18 and 21 cm | |